We are pleased to announce the availability of A Faithful Version Bible with Strong's number and Parsing Information (Morphology) (AFV+) this 2 December 2020. Both A Faithful Version Bible (without Strong and Morphology) and A Faithful Version Bible with Strong's number and Parsing Information (Morphology) (AFV+) are courtesy of Fred R. Coulter (see https://afaithfulversion.org/).
The following are screenshots of Psalms 117 and John 1 displaying Strong and Morphology in Hebrew and Greek respectively.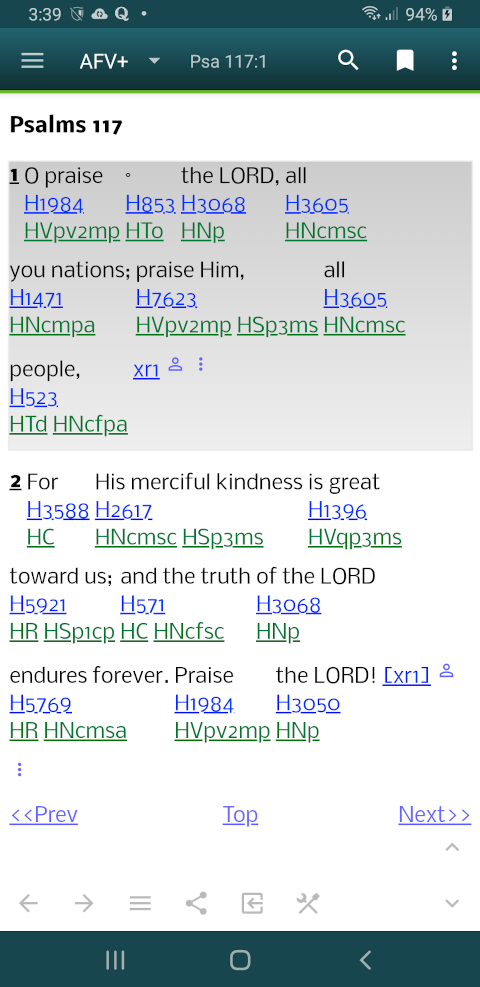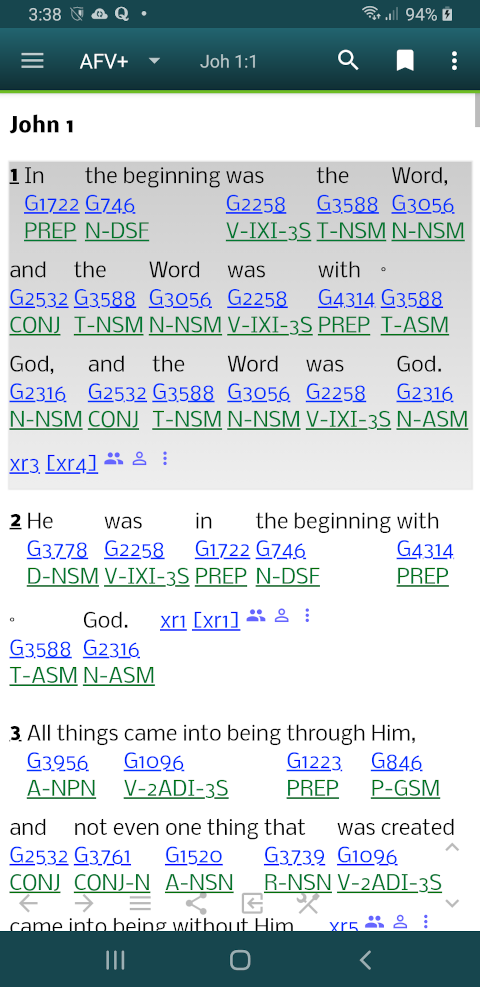 The AVF+ module includes the UnfoldingWord® Hebrew Grammar (HebrewGrammar) book as the included Morphology dictionary has links to this book for further information. Also, it includes UnfoldingWord® Greek Grammar (GreekGrammar) book though it's currently in 0.1 Alpha 2 version (early Beta) but the synopsis is already helpful. Both books can be downloaded separately though.
The Strong numbers and Parsing data of the Old Testament was taken from Open Hebrew Scriptures Bible (https://hb.openscriptures.org/) where the Strong data is under Public Domain and the Parsing/Morphology is licensed under a Creative Commons Attribution 4.0 International License. The Strong numbers and Parsing data of the New Testament was taken from Open Greek New Testament Project (https://github.com/eliranwong/OpenGNT) which are both licensed under a Creative Commons Attribution-ShareAlike 4.0 International License. Some Strong and Morphology entries in the NT were then corrected/aligned to Textus Receptus (TRa module of MySword/TheWord).
---
This is the electronic text of "A Faithful Version", but it is not presented in the same book order. MySword and theWord Bibles follow the versification and book order of the King James Bible, to give you a consistent way to compare different translations, verse-by-verse. See below for the book order of the printed text.
-- MySword and theWord Bible Software --
Old Testament

Genesis

Exodus

Leviticus

Numbers

Deuteronomy

Joshua

Judges

I Samuel

II Samuel

I Kings

II Kings

Isaiah

Jeremiah

Ezekiel

Hosea

Joel

Amos

Obadiah

Jonah

Micah

Nahum

Habakkuk

Zephaniah

Haggai

Zechariah

Malachi

Psalms

Proverbs

Job

Song of Solomon

Ruth

Lamentations

Ecclesiastes

Esther

Daniel

Ezra

Nehemiah

I Chronicles

II Chronicles

New Testament

Matthew

Mark

Luke

John

Acts

James

I Peter

II Peter

I John

II John

III John

Jude

Romans

I Corinthians

II Corinthians

Galatians

Ephesians

Philippians

Colossians

I Thessalonians

II Thessalonians

Hebrews

I Timothy

II Timothy

Titus

Philemon

Revelation
A Faithful Version
Why This Unique Bible?
The Holy Bible In Its Original Order is an extraordinary Bibleunique in two ways. First, it is the only complete Bible ever published in a single volume that accurately follows the original God-inspired manuscript order of all the books of the Old and New Testamentsmaking it the "Original Bible Restored." In addition, once the original order of the 49 biblical books has been restored, the Seven Divisions of the Bible are also re-established: The Old Testament contains: 1) The Law, 2) The Prophets, and 3) The Writings. The New Testament contains: 4) The Gospels and Acts, 5) The General Epistles, 6) The Epistles of Paul, and 7) The Book of Revelation. With this restoration, God's purposeful design of the Scriptures begins to unfold, revealing His divine inspiration.
As the apostle Paul wrote, "All Scripture is God-breathed"and thus reflects the mind of Almighty God, Creator of heaven and earth. It is the truth of God from the God of Truth, Who cannot lie; it is His personal revelation to mankindthe pinnacle of His creationwhom He made in His own image. From Genesis to Revelation, God reveals His awesome, eternal plan and purpose to those who love and obey Him.
Second, this version is a new translationA Faithful Versionthat reflects the true meaning of the original Hebrew and Greek with fidelity and word for word accuracy, showing the unity of Scripture between the Old and New Testaments. Today, in the face of rampant religious confusion, those who read and study the English Bible deserve a quality translation that can be trusted. Most importantly, hundreds of errors of the KJV have been corrected. Thus, making this Bible the most accurate English translation to date. Reviewer Dan Decker of Bible Editions and Versions (January 2009) writes of this Faithful Version: "It is an excellent translation for those desiring a literal one…. We heartily recommend this fine translation."
(https://afaithfulversion.org/)
Enjoy your Bible study even more.