A new version of MySword for Android v.7.0 has been released. MySword 7.0's major feature is Reading Plan / Own Pace Progress Tracking (Deluxe version) and some optimizations.
Click for more information about Premium Features and Deluxe Features.
With MySword, you can study the Bible, compare different translations, lookup Strong's Hebrew and Greek Lexicon, read popular commentaries, Bible dictionaries, books, maps, and even write your own insights and study notes directly on your Android device offline (the Internet connection is only needed when downloading modules). Bible study has never been this fun and easy.
Come and try the free version of the software. Install directly from Google Play!  Or install directly from website download (upgradable to Premium or Deluxe).
Ephesians 6:17 KJV And take the helmet of salvation, and the sword of the Spirit, which is the word of God
Psalms 149:6 KJV Let the high praises of God be in their mouth, and a two-edged sword in their hand
We would like to thank you for your support of this project. With your generous donation, we can be able to distribute the The Word of God around the world.
Your gift is a seed sown into the development, maintenance, support and upgrade of MySword Bible that is sown back to the lives of MySword users. Many people around the world has been touched and blessed by this invaluable software.
It gives us encouragement and strength to continue with this project for you were able to excel in the grace of giving.
2 Corinthians 8:7 NIV "Just as you excel in everything — in faith, in speech, in knowledge, in complete earnestness and in your love for us — see that you also excel in this grace of giving."
The following are the exciting features of MySword for Android:
Multiple offline Bibles, Commentaries, Dictionaries, Devotionals, Books, Graphics/Maps
Bible version verse comparison
Highlighting; Bookmarks; Verse list
Cross-references inline or via Treasury of Scripture Knowledge (TSK)
Type your personal notes and insights by verse or topic (Journal)
Search (concordance) for Bible, Dictionaries, Commentaries, Personal notes and Journal
Full screen mode support for more viewable text
Strong's number support linked to dictionary for easy access
Support for Morphological codes and link to the Dictionary view
Arrangeable buttons
User selectable Color scheme/theme
Resizeable text allowing fine adjustment of text size
Page history navigation (back and forward)
Picture support for Commentaries, Dictionaries, Devotionals, Personal Notes and Books/Journals
Text-to-Speech support for Bible
Here is a sample screen shot of the Bible view showing Bible version comparison in Jellybean: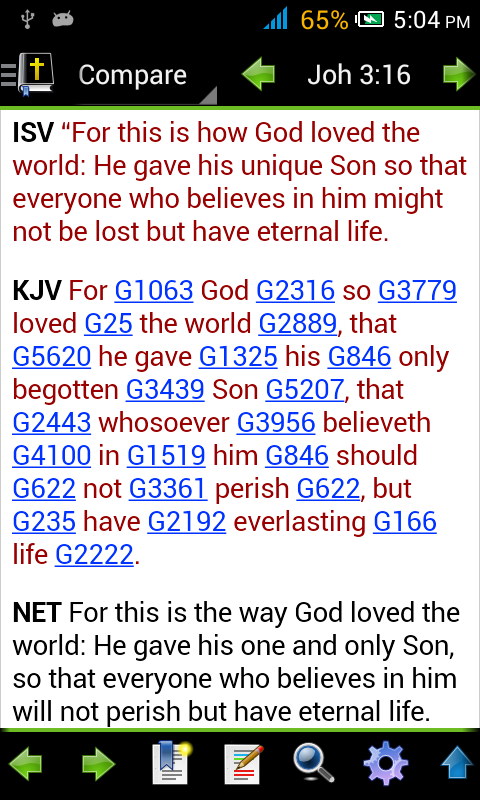 Additional information